First Class Fashionista would like to invite you to shop:
Discount Designer Clothes
Discount Designer Shoes
Discount Designer Handbags
*BOOKMARK THIS SITE for Updates* Reality TV Gossip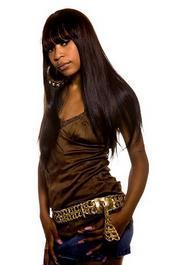 Due to the increasing popularity of hair extensions and weaves, I've had the opportunity to see a lot of women experiencing bad hair days…or just bad weaves-especially on television! "Thing 2" gets First Class Fashionista's "Best Weave Award" because she managed, for the entire season of "Flavor of Love 3," to keep her weave looking shiny and manageable. Here is where you can tell fans what you think. Share a comment with thousand of visitors. *Copyright protected. First Class Fashionista permits direct linking and photo credit.