According to court documents, Lindsay Lohan's current prescription includes: Nexium, Zoloft, Trazadone, Adderall, and Dilaidid.
Is Lindsay Lohan addicted to these prescription drugs? Is Lindsay Lohan addicted to Adderall? According to Lindsay Lohan's father, Michael Lohan, Lindsay is an addict.
"She goes and complains about pain or a tooth extraction and they give her Dilaidid. Dilaidid is 8x more powerful than heroine," says Michael Lohan.
Lindsay Lohan was ordered to spend 90 days in rehab for violating probation.
The photo: Lindsay Lohan appeared in court before Judge Marsha Revel with "F**ck U" written in her nail polish. Read: Who Owes Lindsay Lohan? Help Lindsay Before It's Too Late!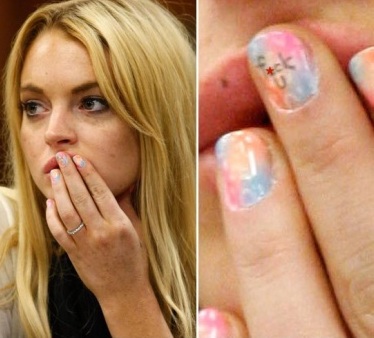 Here is where you can tell thousands of people what you think. Share a comment with thousands of visitors at FirstClassFashionista.com. Is this First Class Fashionista Hot or Not? *First Class Fashionista is Copyright Protected. First Class Fashionista permits a direct homepage link and credit.

First Class Fashionista would like to invite you to shop:
Discount Designer Clothes
Discount Designer Shoes
Discount Designer Handbags
*BOOKMARK THIS SITE for Updates* Lindsay Lohan Addicted to Prescription Drugs?