Vince Vaughn and Kyla Weber Expecting a Baby: Kyla Weber is Pregnant
After 6 months of wedded bliss, Vince Vaughn and Kyla Weber are starting a family. Reportedly, it has been confirmed by E! News that Kyla Weber is pregnant.
So is Vince Vaughn ready to become a father?
"It's the first time that I really want to have kids. I've been very fortunate in my career and my life has been about that for so long that you get bored of it. You're ready for your life to be about other people and other things," Vince Vaughn tells People Magazine, September, 2009.
Congratulations, Vince Vaughn and Wife Kyla Weber on the big family news! Vince Vaughn is going to be daddy!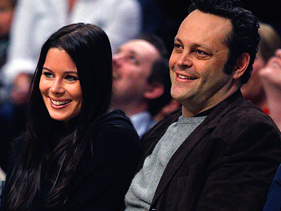 Here is where you can tell thousands of people what you think. Share a comment with thousands of visitors at FirstClassFashionista.com. Is this First Class Fashionista Hot or Not? *First Class Fashionista is Copyright Protected. First Class Fashionista permits a direct homepage link and credit.

First Class Fashionista would like to invite you to shop:
Discount Designer Clothes
Discount Designer Shoes
Discount Designer Handbags
*BOOKMARK THIS SITE for Updates* Vince Vaughn Wife Kyla Weber Pregnant