How is Lindsay Doing in Jail?
Yesterday Lindsay Lohan turned herself in to serve her 90 day sentence that she received just two weeks ago. Lindsay Lohan was sentenced to 60 days for her two DUI charges and 30 days for violating probation. 
Reportedly, to make matters worse for Lindsay Lohan, Lindsay's lawyer, Robert Shapiro, dropped her. Robert Shapiro claims that Lindsay Lohan was "too rowdy" and had people coming into Pickford Lofts at all hours of the night. Originally, Robert Shapiro allegedly agreed to be Lindsay Lohan's lawyer only if Lindsay behaved herself- But Lindsay leaving Robert Shapiro's treatment facility was not anyone would call respect. 
How is Lindsay Doing? Lindsay Lohan will spend 12 hours a day in a 12×8 prison cell in solitude, where Paris Hilton once spent her days…And, word is, Lindsay is having a very difficult time adjusting. However, Lindsay will most likely only spend 23 days of her 90 day sentence in jail "because of overcrowding".
Immediately following Lindsay Lohan's release from jail, Lindsay must attend court-ordered rehab.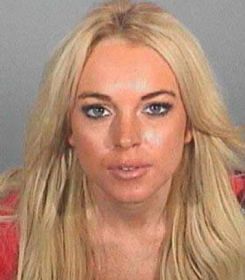 Here is where you can tell thousands of people what you think. Share a comment with thousands of visitors at FirstClassFashionista.com. Is this First Class Fashionista Hot or Not? *First Class Fashionista is Copyright Protected. First Class Fashionista permits a direct homepage link and credit.

First Class Fashionista would like to invite you to shop:
Discount Designer Clothes
Discount Designer Shoes
Discount Designer Handbags
*BOOKMARK THIS SITE for Updates* Lindsay Lohan Jailed