Cristiano Ronaldo Secrets
Just 1 month ago, Cristiano Ronaldo adopted a baby boy claiming that the child was from from a surrogate mother- The reason for keeping the child's mother's identity a secret.
However, reports are now alleging that the real mother of Cristiano Ronaldo's baby boy is an American waitress who Cristiano impregnated during a one night stand. Supposedly, after finding out about the pregnancy through his agent, Cristiano Ronaldo paid the woman 15.1 million dollars of hush money to keep her identity away from the media.
It has been said that Cristiano Ronaldo has decided not to tell Cristiano Jr. about his birth mother until he has reached the age of 18.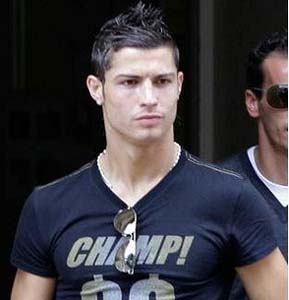 Here is where you can tell thousands of people what you think. Share a comment with thousands of visitors at FirstClassFashionista.com. Is this First Class Fashionista Hot or Not? *First Class Fashionista is Copyright Protected. First Class Fashionista permits a direct homepage link and credit.

First Class Fashionista would like to invite you to shop:
Discount Designer Clothes
Discount Designer Shoes
Discount Designer Handbags
*BOOKMARK THIS SITE for Updates* Cristiano Ronaldo Secrets: Cristiano Ronaldo Baby Mama Drama