Ellen DeGeneres confirmed reports on Thursday that she is leaving American Idol, saying that the schedule was too demanding and that she doesn't like judging people on their singing. Reportedly, earlier in 2009, Ellen DeGeneres said she signed a multi-year contract but decided that American Idol wasn't a good fit for her during the first season.
Allegedly Ellen DeGeneres claims she told the producers of American Idol before the end of the first season so it wouldn't be a surprise to them. However, Ellen also says she is going to be loyal to them until they find someone to replace her. "I told them I wouldn't leave them in a bind and that I would hold off on doing anything until they were able to figure out where they wanted to take the panel next," says Ellen DeGeneres.
So, Ellen is leaving and Simon has already left…Now the producers are going to have to try and find two judges fast! What will be the future of American Idol? Will it all go down the tubes or will the change make the show better than ever?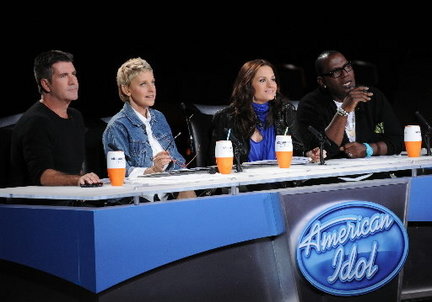 Here is where you can tell thousands of people what you think. Share a comment with thousands of visitors at FirstClassFashionista.com. Is this First Class Fashionista Hot or Not? *First Class Fashionista is Copyright Protected. First Class Fashionista permits a direct homepage link and credit.

First Class Fashionista would like to invite you to shop:
Discount Designer Clothes
Discount Designer Shoes
Discount Designer Handbags
*BOOKMARK THIS SITE for Updates* American Idol Ellen DeGeneres