T.I. and Tiny Married: T.I. and Tiny's Wedding Photos and Details
There were rumors in the blogoshere about Rapper T.I. calling off the wedding because he was "hanging out" with Flavor of Love Reality TV Star Hoopz, but last weekend T.I. married longtime girlfriend, Former Xcape member and "Tiny and Toya" Reality TV Star Tameka "Tiny" Cottle.
T.I. and Tiny were legally married at a courthouse in Miami on Friday, July 30, 2010. However, arriving by horse and carriage, T.I. and Tiny said "I do" again at their wedding reception on Saturday, July 31st in front of friends and family on Miami's posh Star Island. 2 more "I dos" to go, T.I. and Tiny jetted off to Atlanta and then Las Vegas.
Tiny wore a wedding dress by Valentino and Monica, Antonia "Toya" Carter and Kandi Burruss were Tiny's honorary bridesmaids. T.I. and Tiny's notable celebrity guests included Usher, Lil Scrappy, Rasheeda, Nelly, Jermaine Dupri, Bow Wow, Ashanti, Angela Simons, Kim Porter and Diamond.
So ladies if you are wondering if T.I. is married: Yes, T.I. is married.
Who is Rapper T.I. Married To: T.I. is married to Tameka "Tiny".
How Long has T.I. and Tiny Been Together? Tiny and T.I. have been together for over 10 years.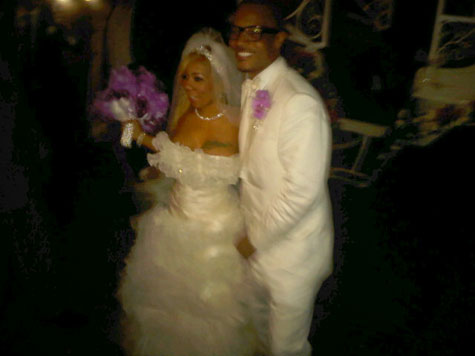 Here is where you can tell thousands of people what you think. Share a comment with thousands of visitors at FirstClassFashionista.com. Is this First Class Fashionista Hot or Not? *First Class Fashionista is Copyright Protected. First Class Fashionista permits a direct homepage link and credit.

First Class Fashionista would like to invite you to shop:
Discount Designer Clothes
Discount Designer Shoes
Discount Designer Handbags
*BOOKMARK THIS SITE for Updates* T.I. and Tiny Wedding Pictures