Taylor Lautner and Taylor Swift Back Together in Valentine's Day Sequel

The rumors are true that indeed Taylor Swift and Taylor Lautner might be getting back together again to make a Valentine's Day sequel. Valentine's Day featured Bradley Cooper, Julia Roberts, Ashton Kutcher, Jessica Alba, Jessica Biel and Anne Hathaway and of course the two lovebirds, Taylor Lautner and Taylor Swift.

According to reports, however, The sequel would have an entirely different cast and would follow Taylor Swift as a student at NYU while Taylor Lautner would return as the only single person in the movie.

A source says, "I don't think Taylor Lautner would come back. They only mentioned Taylor Swift, and she's not even in right now".

Just imagine if they both came back, all the juicy rumors that would start!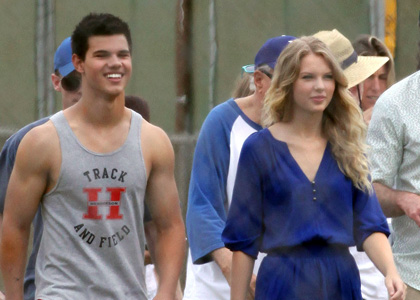 Here is where you can tell thousands of people what you think. Share a comment with thousands of visitors at FirstClassFashionista.com. Is this First Class Fashionista Hot or Not? *First Class Fashionista is Copyright Protected. First Class Fashionista permits a direct homepage link and credit.

First Class Fashionista would like to invite you to shop:
Discount Designer Clothes
Discount Designer Shoes
Discount Designer Handbags
*BOOKMARK THIS SITE for Updates* Taylor Lautner and Taylor Swift Back Together