After her arrest recently, seems like Snooki from MTV's the Jersey Shore has decided to take some action, and change herself. Looks like her father's reaction to the incident got the 22 year old to change her attitude towards alcohol. "My dad was very, very pissed, he's like, 'I didn't raise you like this.' I just felt really bad, so I'm definitely going to stop drinking during the daytime. And now when I go out, I only have a couple drinks," says Snooki.
During her recent arrest, Snooki reportedly spent a few hours in the drunk tank passed out, but when she woke up she supposedly didn't really remember what happened. All Snooki hopes is that her family will forgive her and that young fans don't mimic her behavior.
According to further reports, Snooki has a court date scheduled for August 18th.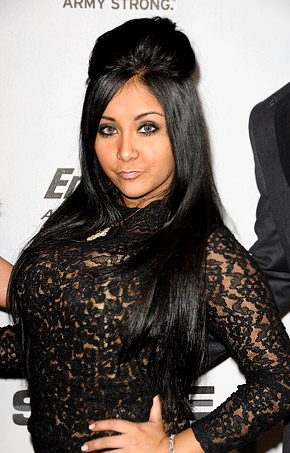 Here is where you can tell thousands of people what you think. Share a comment with thousands of visitors at FirstClassFashionista.com. Is this First Class Fashionista Hot or Not? *First Class Fashionista is Copyright Protected. First Class Fashionista permits a direct homepage link and credit.

First Class Fashionista would like to invite you to shop:
Discount Designer Clothes
Discount Designer Shoes
Discount Designer Handbags
*BOOKMARK THIS SITE for Updates* Kelis in Jewel By Lisa