Looks like the hot tub will simmer down this season on the Jersey Shore. That's right! Snooki is officially done looking for love, or what she likes to call a juiced-up gorilla head. She is done trying but is waiting for someone to come to her saying "I'm waiting for him to come to me now. It'll happen when the time is right, but I'm not looking right now". The reality star also confessed that she wants to be a mom one day "I want two: a boy and a girl. I'm going to name them Isabella and Frankie," says Snooki. So, basically, Snooki is on the husband prowl.
Anyways, as many of you might have heard, Snooki's best friend Deena Cortese has replaced Angelina on the Jersey Shore and she, like Snooki, is not looking for a boyfriend either. "I'm just going out to have a good time. If someone was to come to me cool. If not, that's fine. I'm a very independent woman. I can do fine on my own," says Deena…Another Snooki in the making, how precious. Tune in to Jersey Shore, Fridays at 7p.m on MTV.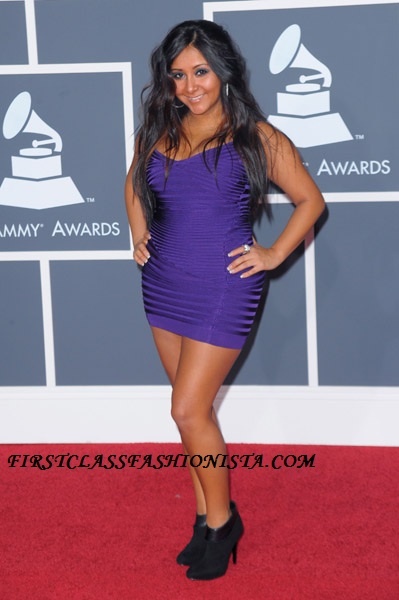 Here is where you can tell thousands of people what you think. Share a comment with thousands of visitors at FirstClassFashionista.com. Is this First Class Fashionista Hot or Not? *First Class Fashionista is Copyright Protected. First Class Fashionista permits a direct homepage link and credit.

First Class Fashionista would like to invite you to shop:
Discount Designer Clothes
Discount Designer Shoes
Discount Designer Handbags
*BOOKMARK THIS SITE for Updates* Is Snookie Still Looking for Love?