Tila Tequila Gets Attacked Onstage: Tila Tequila Bruised and Cut Up
Tila Tequila was attacked onstage this weekend at the Underground Music Festival. Reportedly, Tila tequila was allegedly attacked by none other than fans of the band Insane Clown Posse.
Promptly after coming onstage, MTV Reality Star Tila Tequila was sent a wave of beer bottles, rocks, and human poop. Tila Tequila's reason for making the appearance was allegedly to try and expose the fans to mainstream music. To top it off, Tila Tequila was given many warnings that something would happen to her. Her fans online warned her not to go. Word is, just seconds prior to Tila Tequila getting onstage, someone running the event told her that the fans were getting rowdy, and not to go onstage.
Tila Tequila had to get stitches after someone threw a rock at her head, and she has many bumps and bruises. Tila Tequila's lawyer is now on the case and filing a lawsuit.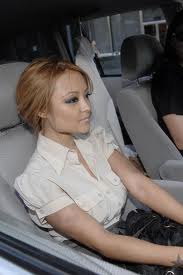 Here is where you can tell thousands of people what you think. Share a comment with thousands of visitors at FirstClassFashionista.com. Is this First Class Fashionista Hot or Not? *First Class Fashionista is Copyright Protected. First Class Fashionista permits a direct homepage link and credit.

First Class Fashionista would like to invite you to shop:
Discount Designer Clothes
Discount Designer Shoes
Discount Designer Handbags
*BOOKMARK THIS SITE for Updates* Tila Tequila Attacked