Kat von D Tweets She's Dating Jesse James: Is Kat von D Dating Jesse James? by A Fashionista
Apparently Kat von D, from the hit show LA Ink, spoke too soon when she tweeted on Wednesday that she and Jesse James are dating. In the tweet, Kat von D simply stated: "And yes, Jesse and I are dating". Kat von D deleted it immediately, although 100 people already re-tweeted the post. A rep for Kat says Kat von D and 41 year old Jesse James are just friends- But we beg to differ!
Kat von D and Jesse James have already been spotted in Las Vegas together! And why not? They're both single. I think Kat von D and Jesse James are a better fit anyway…And Kat just might be able to tame the scandalous cheating celeb!
We are hoping this relationship will blossom into more than a friendship because Kat von D and Jesse James are officially on our couples watch!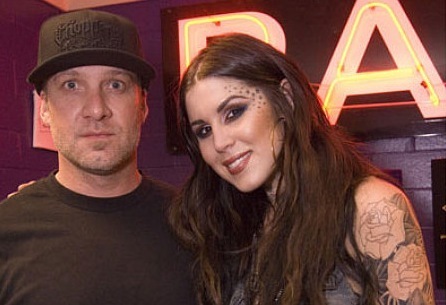 Here is where you can tell thousands of people what you think. Share a comment with thousands of visitors at FirstClassFashionista.com. Is this First Class Fashionista Hot or Not? *First Class Fashionista is Copyright Protected. First Class Fashionista permits a direct homepage link and credit.

First Class Fashionista would like to invite you to shop:
Discount Designer Clothes
Discount Designer Shoes
Discount Designer Handbags
*BOOKMARK THIS SITE for Updates* Are Kat von D and Jesse James Dating?