Story Posted at: First Class Fashionista
Victoria's Secret Supermodel Miranda Kerr Talks to Spanish Vogue About Her Pregnancy!
It all makes sense now, only a month after Victoria's Secret Model Miranda Kerr and Orlando Bloom secretly eloped, Miranda Kerr has announced that she is indeed pregnant. Here's the story– After being together for three years, Miranda Kerr and Orlando Bloom were suddenly engaged, and then they quickly married soon after they found out Miranda was pregnant.
In September's issue of Spanish Vogue, Miranda Kerr revealed that she is expecting her first child and is in fact four months along. Miranda also told Vogue about her experiences as a first time mommy-to-be saying "I remember one occasion in the early days when it was still too soon to say anything, and I had a dreadful time at one job". No one managed to find out because Miranda Kerr returned to work following the honeymoon, although she was three months pregnant.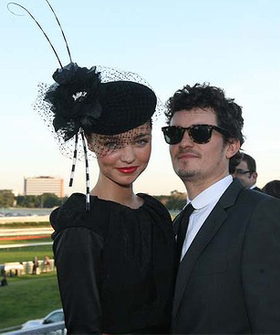 It's all according the the buzz…Here is where you can tell thousands of people what you think. Share a comment with thousands of visitors at FirstClassFashionista.com. Is this First Class Fashionista Hot or Not? *First Class Fashionista is Copyright Protected. First Class Fashionista permits a direct homepage link and credit.

First Class Fashionista would like to invite you to shop:
Discount Designer Clothes
Discount Designer Shoes
Discount Designer Handbags
*BOOKMARK THIS SITE for Updates* Pregnant Model: Victoria's Secret Super Model Miranda Kerr