Lindsay Lohan's Early Rehab Release: Will the DA Approve Lindsay Lohan's Early Rehab Release? Answer
Reportedly Lindsay Lohan's prosecutor, Dannette Myers, recently admitted that she would be okay with Lindsay's early release from rehab saying, "I am going to stick to whatever the medical professionals think for her, because they are the experts".
We've heard that Dannette Myers and Lindsay's lawyer Shawn Chapman Holley met yesterday to discuss the detail of a possible early release. Word is, the final decision is going to be made by the new judge on the case, Eldon Fox. And it seems that Lindsay Lohan may not even need 90 days of rehab, considering a reliable source released a statement yesterday alleging that Lindsay has been weaned off all medications, is not bipolar and doesn't have ADHD, which she was supposedly tested for.
Meanwhile, it has also been said that Dannette Myers is having her office investigate the leak in privacy.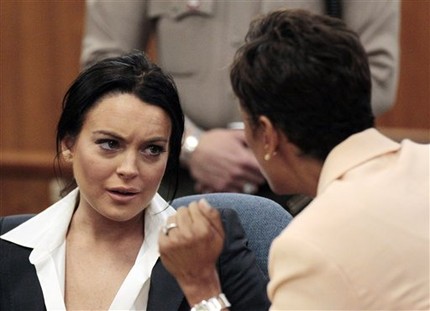 It's all according the the buzz…Here is where you can tell thousands of people what you think. Share a comment with thousands of visitors at FirstClassFashionista.com. Is this First Class Fashionista Hot or Not? *First Class Fashionista is Copyright Protected. First Class Fashionista permits a direct homepage link and credit.

First Class Fashionista would like to invite you to shop:
Discount Designer Clothes
Discount Designer Shoes
Discount Designer Handbags
*BOOKMARK THIS SITE for Updates* Lindsay Lohan Early Rehab Release