Latest Ali Fedotowsky and Roberto Martinez Gossip on Wedding Plans
According to a source, it seems that Ali Fedotowsky, of ABC's The Bachelorette, has already made wedding plans. This seems a little soon, considering Ali Fedotowsky and pick, Roberto Martinez have been engaged just a few months. However, Ali has revealed that she and Roberto are planning to get married in the spring.
Ali Fedotowsky says she wants to have basic and beautiful music played on her wedding. "I want it to be simple: one person, one instrument and that's it," Ali said about the ceremony. Ali Fedotowsky went on to mention that her favorite musicians are Jack Johnson, and Schuyler Fisk and said that was the kind of "rawness" she wanted. When it comes to the reception Ali wants to dance, saying "Our wedding will be a lot of dancing and celebrating, a live band, and absolutely salsa dancing. Every kind of dancing! I'm actually envisioning Roberto and I making up a dance– a funny, quirky dance that people are going to laugh at".
Hopefully Ali's guests are going to be ready to get down. I wish Ali the best of luck, and hope her relationship makes it far.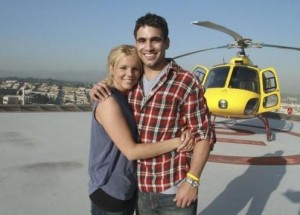 First Class Fashionista would like to invite you to shop:
Discount Designer Clothes
Discount Designer Shoes
Discount Designer Handbags
*BOOKMARK THIS SITE for Updates* The Bachelorette Ali Fedotowsky Getting Married