First Class Fashionista would like to invite you to shop:
Discount Designer Clothes
Discount Designer Shoes
Discount Designer Handbags
*BOOKMARK THIS SITE for Updates*
Carmelo Anthony's Wife LaLa Vazquez Featured in June 2008 Sports Illustrated Swimsuit Special: Athletes' Wives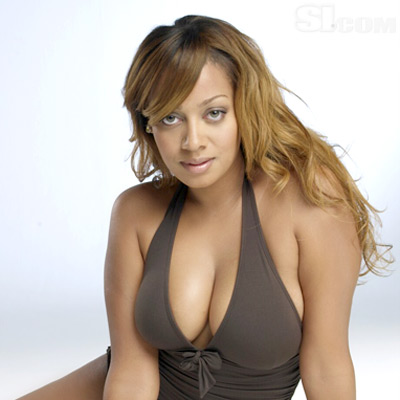 I have to give it up to LaLa Vazquez. She is one brave lady. The MTV veejay just gave birth to a child last March. In this picture, LaLa is wearing a Juicy Couture swimsuit.
Update 7/10/2010: Congratulation LaLa Vazquez and Carmelo Anthony! You just got married! Best Wishes. LaLa Vazquez and Carmelo Anthony wedding details. Bookmark us!
Mavericks vs. Nuggets Playoff- Fan Spit on Lala 5/11/09
Are you looking for that swimsuit you saw yesterday in your favorite magazine? Want to find the perfect celebrity swimsuit? Well I just recently went shopping for a new swimsuit, so I know just how hard it is to find the almost perfect swimsuit. Then I thought, "Why didn't I think of that…?" Why not feature a celebrity swimsuit edition at First Class Fashionista! So you want to look like a star at the pool or on the beach this summer? Shop for swimsuits here.
"We see what we look at, and the way that we see things is effected by what we know."