Posted at First Class Fashionista
Rumors have been going around that the reason for Miley Cyrus and Liam Hemsworth's breakup was because Liam was cheating on Miley. Here's what really happened. Apparently, after attending the U.S Open Surfing tournament, Liam Hemsworth was allegedly seen partying with a group of blondes down at Newport Beach and getting cozy with one particular girl. The next day, the two supposedly met up again and left to go hook-up at a nearby hotel.
The real question is- Was Liam Hemsworth actually cheating? Miley Cyrus and Liam had been on and off the whole summer, so was this alleged cheating scandal during one of the off again times when they weren't together? The thing is, Liam reportedly visited Miley Cyrus before and after this little hook-up occurred; which would seem as though Miley and Liam Hemsworth were in fact together when the apparent cheating occurred– If so, we can conclude that Liam was cheating on Miley. But really…They are both so young, let them date! I think Miley and Liam should be having fun and shouldn't be tied down to just one person.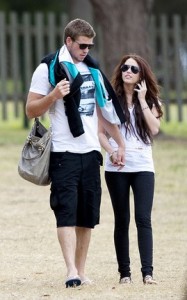 It's all according the the buzz…Here is where you can tell thousands of people what you think. Share a comment with thousands of visitors at FirstClassFashionista.com. Is this First Class Fashionista Hot or Not? *First Class Fashionista is Copyright Protected. First Class Fashionista permits a direct homepage link and credit.

First Class Fashionista would like to invite you to shop:
Discount Designer Clothes
Discount Designer Shoes
Discount Designer Handbags
*BOOKMARK THIS SITE for Updates* Miley Cyrus Liam Hemsworth Breakup