Posted at First Class Fashionista
Jesse James and Kat von D Confirm They're Dating: Kat Says She's in Love!?
During the opening of Kat von D's new Wonderland Gallery, Kat confirmed that she and Jesse James were indeed dating. When asked if they were together, she replied "Yes, were together…Duh!" She went on to describe their relationship as "something spontaneous". Kat went on to gush about how she thinks James is the one for her, and that she only hangs out with guys "if she is in love". Tell us, how can you be in love after only two months?
Kat von D says the hook-up wasn't planned; but, again, it's only been two months since the finalization of the Sandra Bullock and Jesse James divorce…And Jesse's already got new arm candy? It's probably just another slap in the face to Sandra.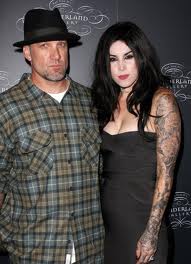 It's all according the the buzz…Here is where you can tell thousands of people what you think. Share a comment with thousands of visitors at FirstClassFashionista.com. Is this First Class Fashionista Hot or Not? *First Class Fashionista is Copyright Protected. First Class Fashionista permits a direct homepage link and credit.

First Class Fashionista would like to invite you to shop:
Discount Designer Clothes
Discount Designer Shoes
Discount Designer Handbags
*BOOKMARK THIS SITE for Updates* Kat von D in Love with Jesse James