Posted at First Class Fashionista
A few months ago, Taylor Lautner ordered a 300,000 dollar personal trailer to use on the set of his new movie, Abduction. Well, the story is the trailer wasn't delivered on time, or "pimped out" like Taylor Lautner wanted, so Taylor sued. Reportedly, in the legal documents, Taylor claimed "annoyance" and "emotional distress," over the lateness of his trailer.
According to the wrap-up reports, after suing McMahon's RV company when they failed to deliver his RV on time, the courts have reached a settlement- Taylor Lautner Wins! Reportedly, the courts ordered the company to pay Taylor Lautner 40,000 dollars for their mishap. Being the generous man he is, Taylor has agreed to donate the money to the Lollipop Theater Network, a children's charity which he has a good relationship with. The Lollipop Theater Network is an organization that brings children, with life-threatening illnesses, box office movies that they can enjoy in their hospital rooms. Way to go Taylor Lautner for donating your money to children!
Dress Like Taylor Lautner: Anyone can get Taylor Lautner's Look- Taylor Lautner is wearing black shield sunglasses, a white stretch v-neck t shirt and jeans.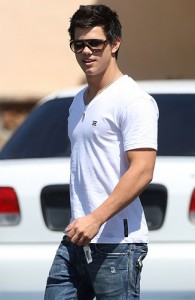 It's all according the the buzz…Here is where you can tell thousands of people what you think. Share a comment with thousands of visitors at FirstClassFashionista.com. Is this First Class Fashionista Hot or Not? *First Class Fashionista is Copyright Protected. First Class Fashionista permits a direct homepage link and credit.

First Class Fashionista would like to invite you to shop:
Discount Designer Clothes
Discount Designer Shoes
Discount Designer Handbags
*BOOKMARK THIS SITE for Updates* Taylor Lautner Lawsuit and Taylor's Fashion Tips Blog