Posted at First Class Fashionista
Miley Cyrus and Ashley Green Partying at the VIP room in Paris
Miley Cyrus has become a controversial subject these days, between her risque outfits and her older boyfriends. Everyone seems to be thinking, is Miley Cyrus acting too old for her age? Recently, Miley Cyrus was seen partying at the VIP room with Ashley Greene in the city of love, Paris. A source says, the two danced the night away but Miley didn't get too crazy.
The Twilight actress and Hannah Montana starlet are starring in a new movie called LOL, where Miley plays a teenager living in the world of technology and trying to find love.
Many people might be wondering if it's legal to be clubbing at 17, but the drinking age in Paris is 16- So, yes, Miley can party in Paris. Her partying co-star, Ashley Greene, is 23.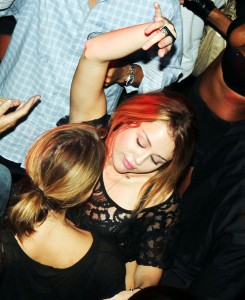 It's all according the the buzz…Here is where you can tell thousands of people what you think. Share a comment with thousands of visitors at FirstClassFashionista.com. Is this First Class Fashionista Hot or Not? *First Class Fashionista is Copyright Protected. First Class Fashionista permits a direct homepage link and credit.

First Class Fashionista would like to invite you to shop:
Discount Designer Clothes
Discount Designer Shoes
Discount Designer Handbags
*BOOKMARK THIS SITE for Updates* Miley Cyrus and Ashley Green Partying at the VIP room in Paris