"I think I'm Just Sad that I Think, 'Who Will Love Me the Way that She Did?' But I Realize that My Brother and I Have Each Other and So We Are Okay," says Whoopi Goldberg.
Earlier Report on Whoopi Goldberg's Mother at First Class Fashionista.…
Whoopi Goldberg flew back from London after hearing the news that her mother, Emma Johnson, had a stroke. Whoopi wasn't due back in the states until next week, but rushed home anyways to be by her mother's side. Goldberg was busy in London, doing a stage show, playing the role of Mother Superior. Sources say, "Whoopi's role was only temporary but resulted in a increase of ticket sales, and better reviews. "Our thoughts and sincere best wishes are with Whoopi at this difficult time," said Bill Taylor, CEO of Stage Entertainment UK. Best regards towards Whoopi's mother, I hope she gets better.
After making the unexpected trip home and ending her Sister Act stage tour early to visit her mother, Emma Johnson, it is sad to report that Whoopi Goldberg's mother passed away after suffering a stroke. Monday morning on The View, Whoopi Goldberg said she is "not sad" because her mother had "a great time" while she was alive. She also went on to say, "My mother was a great adventure person, so she loved to go on adventures and my brother and I made sure that her life was full and rich".
Whoopi Goldberg's mother was obviously a role model for so many great reasons.
"She was one of the best people I've had a privilege of knowing," says Whoopi. We wish the best for Whoopi Goldberg and her family during this time of mourning.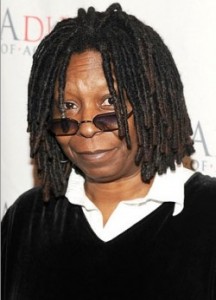 It's all according to the buzz…