Posted at "First Class Fashionista"
Lady Gaga accepted her VMA Video of the Year Award in this raw meat ensemble. Of course, Lady Gaga's meat dress is now a heated controversial hot topic. Many people, including PETA, are outraged that Lady Gaga wore raw meat fashioned into a dress, boots, hat and even a purse. Interestingly, Lady Gaga says she didn't mean to disrespect anyone and her VMA meat dress is really about standing up for our rights.
"If we don't stand up for what we believe in, if we don't stand up for our rights; pretty soon we are going to have as much rights as the meat on our bones…And I'm not a piece of meat", says Lady Gaga.
Really? I'm not buying it! I don't think Lady Gaga's meat dress has anything to do with fashion advocating human or women's rights- the dress is shocking, disgusting and simply repulsive. A dress made of meat is so shocking, Lady Gaga fans are even questioning if the dress is real!
The truth is, Lady Gaga knew her VMA meat dress would be offensive to a lot of people- But, as we all know, creating controversy is what Lady Gaga really intends to do and, it seems, at any expense. Lady Gaga has built a career on being a controversial subject, but what about animal rights? Are animals just a piece of meat? So what do you think? Has Lady Gaga gone too far?
Well, I hope the meat doesn't get wasted, because there are a lot of hungry people in the world.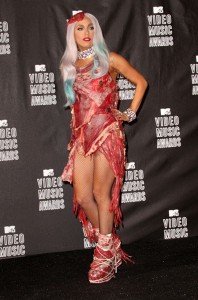 It's all according the the buzz…Here is where you can tell thousands of people what you think. Share a comment with thousands of visitors at FirstClassFashionista.com. Is this First Class Fashionista Hot or Not? *First Class Fashionista is Copyright Protected. First Class Fashionista permits a direct homepage link and credit.

First Class Fashionista would like to invite you to shop:
Discount Designer Clothes
Discount Designer Shoes
Discount Designer Handbags
*BOOKMARK THIS SITE for Updates* Lady Gaga's Meat Dress