Posted at First Class Fashionista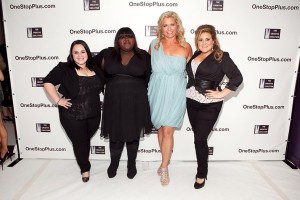 Everyone is talking about the milestone that has been reached in the plus size community- The first plus-size show was featured on the runway at this year's fashion week! The plus-size fashion show hosted by OneStopPlus.com audience members included Nikki Blonsky, Gabourey Sidibe, Model Emme, and KayCee Stroh. The stars all agreed that they will never forget this moment.  
"To be in New York City Fashion Week, which I think is the biggest fashion week in the world, to be here is just a huge thing for us," says Niki Blonsky.
Model Emme argued that fashion designers should start making clothes above a size 12, saying "Why don't we load heavier sizes 14,16 and 18 in stores?" She also added that stores should be more curve friendly to full-figured girls. The show certainly made a positive and progressive statement- Not everyone is a size 2 and so we should not be so "thick" skinned.
Special Mention: Congratulations Toccara Jones, you rocked it! Click to view larger image.

It's all according the the buzz…Here is where you can tell thousands of people what you think. Share a comment with thousands of visitors at FirstClassFashionista.com. Is this First Class Fashionista Hot or Not? *First Class Fashionista is Copyright Protected. First Class Fashionista permits a direct homepage link and credit.

First Class Fashionista would like to invite you to shop:
Discount Designer Clothes
Discount Designer Shoes
Discount Designer Handbags
*BOOKMARK THIS SITE for Updates* First Plus-Size Fashion Show At New York Fashion Week