Posted at First Class Fashionista
Our Future Fashion Designer
First, I am excited to share with you, my valued readers, Anastasia Dennis' interview with About.com (click embedded link). Note: If you are interested in interviewing or offering Anastasia Dennis a scholarship, an internship / job opportunity or, perhaps, sponsoring her next trip to Parsons for portfolio development, please use our contact form at http://www.firstclassfashionista.com.
Who is Anastasia? Anastasia Dennis is a driven 15-year-old teen-fashionista (eager to turn sixteen in just a few days). She is an aspiring fashion designer. Interestingly, I met this young lady on the day she was born and she has added much color and happiness to every day of my life- That's right, I'm the proud mommy!
Like most moms, I am very proud of my kid and I want to shout and tell the whole world that my child is gifted and very, very special! Sketching since she was 3-years-old, Anastasia's fashion designs are original and advante-garde (she told me that means "out-of-the-box" or I think it's "over-the-top", something like that). More impressive than Anastasia's innate creative ability and sense of style, however, is her determination. In pursuit of her dream as a fashion designer, Anastasia is actively sketching and constructing her own future.
Anastasia Dennis, a Colorado native, is the designer of her own future. At 13-years-old, Anastasia logged on to her home computer in Colorado and took the initiative, with permission of course, to enroll herself in her very first Parsons Pre-College class. Now, Anastasia has been taking classes at Parsons School of Design since she was a freshman in high-school! And, who's paying for it…? Not Mommy and Daddy! Well, accompanied to New York by Mom and Dad, Anastasia Dennis is provided with travel, lodging and food- But Anastasia has worked very hard, every summer, to pay for her $1,000 classes at Parsons!
That's why I'm so proud of my daughter! At 15-years-old, sixteen in a few days, Anastasia not only has the gift of creative skill and ability she was born with, but she is driven in her pursuit- sometimes even beyond her family's financial ability. Next year, Anastasia will be studying portfolio development for the 2011 Parsons School of Design admissions application.
Oh, did I mention…? Anastasia dreams of leaving Colorado and becoming a New York based designer. Anastasia loves New York City and its global impact on fashion.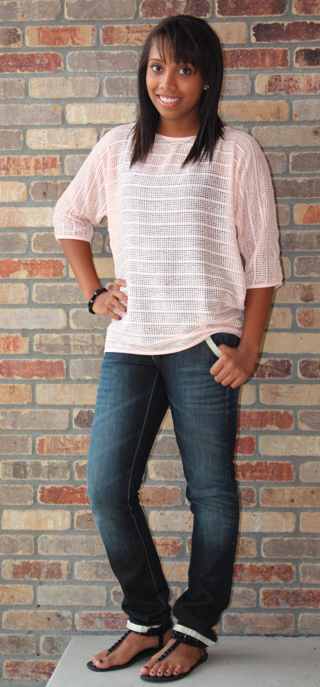 It's all according the the buzz…Here is where you can tell thousands of people what you think. Share a comment with thousands of visitors at FirstClassFashionista.com. Is this First Class Fashionista Hot or Not? *First Class Fashionista is Copyright Protected. First Class Fashionista permits a direct homepage link and credit.

First Class Fashionista would like to invite you to shop:
Discount Designer Clothes
Discount Designer Shoes
Discount Designer Handbags
*BOOKMARK THIS SITE for Updates* Future Fashion Designers