Britney Spears Glee Tribute
You loved it and Britney Spears loved it too! 13 million Gleekers, including Britney, tuned in to watch the "Glee" Britney/Brittany Spears episode and Britney's cameo, making it the highest rated episode of the television series. A gleeful Britney Spears tweeted she loved it, thanking the show for making it happen.
Britney celebrated the "Glee" Britney Spears tribute with a pink TV cake sent to her by Candie's.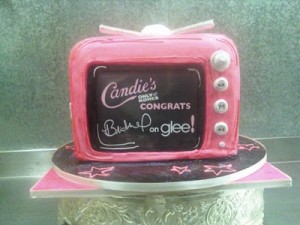 It's all according the the buzz…Here is where you can tell thousands of people what you think. Share a comment with thousands of visitors at FirstClassFashionista.com. *First Class Fashionista is Copyright Protected. First Class Fashionista permits a direct homepage link and credit.