Posted at "First Class Fashionista" *Also Find Us On TV.com
Only two months after Sandra Bullock and Jesse James were divorced, Kat Von D publicly announced that she and Jesse James were dating via a tweet on Twitter (which she tried to delete but was successfully retweeted over 100x) and then again during her opening of her Wonderland Gallery back in September.
Now it's rumored that Kat Von D and Nikki Sixx are back together, but Kat Von D denies these rumors saying, "We didn't get back together. Jesse and I never broke up".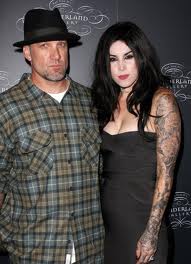 It's all according the the buzz…Here is where you can tell thousands of people what you think. Share a comment with thousands of visitors at FirstClassFashionista.com. Is this First Class Fashionista Hot or Not? *First Class Fashionista is Copyright Protected. First Class Fashionista permits a direct homepage link and credit.

First Class Fashionista would like to invite you to shop:
Discount Designer Clothes
Discount Designer Shoes
Discount Designer Handbags
*BOOKMARK THIS SITE for Updates* Kat von D in Love with Jesse James