Posted at "First Class Fashionista" *Also Find Us On TV.com
Diesel Sneakers Not Made for Running but Great for Breaking Stupid World Records!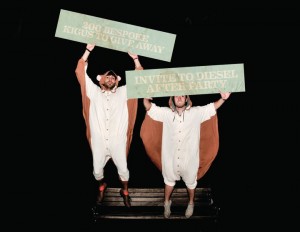 On Saturday, November 6th (tomorrow), you can participate in Diesel's "Be Stupid Campaign" and help break the official Piggy-Back Race Guinness World Record at Allen Gardens, London.
Competitors should arrive by 2:30 pm wearing Diesel sneakers and the first 200 people will be given a free customized Kigu animal suit to take part in the piggy-back race. Over 300 hundred piggy-back runners are needed to break the official Guinness World Record! Plus, get invited to the Diesel Ark After Party!
Sounds fun, but stupid? The event was inspired by a woman named Abi, the winner of Diesel's online "Be Stupid with £50k" competition. Her idea was to spend £50k to re-create Noah's Ark with the dimensions specified in the Bible and then fill it with animals created by contributing artists. Well, Diesel thought that was stupid- and so she won.
"Now that's stupid. Because if we were to build an ark the same size as Noah's it would be the size of the Emirates Stadium. However, we want to run with her idea and have decided to combine animals going in two by two with breaking the current Piggy-Back race Guinness World Record™," Diesel said in a released statement.
Event Details
Location: Allen Gardens, London
Date: Saturday, November 6, 2010
Time: 2:30 pm
Registration: Pre-register on Diesel FaceBook fan page or at Diesel's Covent Garden and Carnaby Street stores.
Website: Diesel
This event is promising to be the world's biggest piggy back race! Sponsors include Dazed and Confused and Kigu.

It's all according the the buzz…Here is where you can tell thousands of people what you think. Share a comment with thousands of visitors at FirstClassFashionista.com. Is this First Class Fashionista Hot or Not? *First Class Fashionista is Copyright Protected. First Class Fashionista permits a direct homepage link and credit.

First Class Fashionista would like to invite you to shop:
Discount Designer Clothes
Discount Designer Shoes
Discount Designer Handbags
*BOOKMARK THIS SITE for Updates* Piggy-Back Race Allen Gardens