Posted at "First Class Fashionista" *Also Find Us On TV.com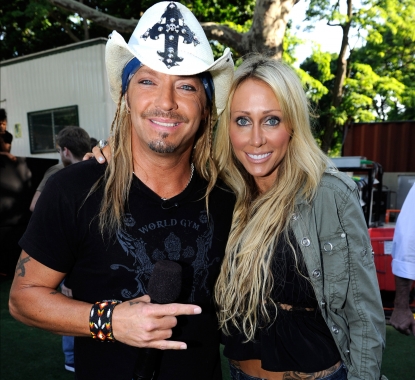 Bret Michaels Denies Affair with Tish Cyrus
Earlier this week, everyone seemed to be talking about Miley Cyrus' mom and dad, Billy Ray and Tish Cyrus, separating. Allegedly, the split was rumored to be related to a supposed affair that Tish Cyrus had with country music star Bret Michaels.
But, Bret Michaels wasted no time to speak out. Bret says, "The answer is no, it started out with me and Miley simply working on a song together. Her mom, Tish, likes 'Every Rose Has Its Thorn', [and] the first concert Miley ever saw was Poison, and so they wanted to remake it for the new record. When I was in the studio, Miley came in and sang on my song and that was it". He also adds that he's been friends with the Cyrus family for a long time.
However, although Bret says he has been a friend of the family for a long time, at the start of the interview, Bret Michaels feigned calling Miley's mom by another name, saying "I mean 'Tish'. An affair starts with getting her name right…Right?" Hmmm…Tell us what you think. Do you believe Bret Michaels? Is he telling the truth, or attempting some sort of cover-up? And why?
Miley Cyrus is crushed. She says she would give anything to see her parents back together again.

It's all according the the buzz…Here is where you can tell thousands of people what you think. Share a comment with thousands of visitors at FirstClassFashionista.com. Is this First Class Fashionista Hot or Not? *First Class Fashionista is Copyright Protected. First Class Fashionista permits a direct homepage link and credit.

First Class Fashionista would like to invite you to shop:
Discount Designer Clothes
Discount Designer Shoes
Discount Designer Handbags
*BOOKMARK THIS SITE for Updates* Carrie Prejean Pregnant