Date My Ex: Jo & Slade Episode 1 Recap and Elimination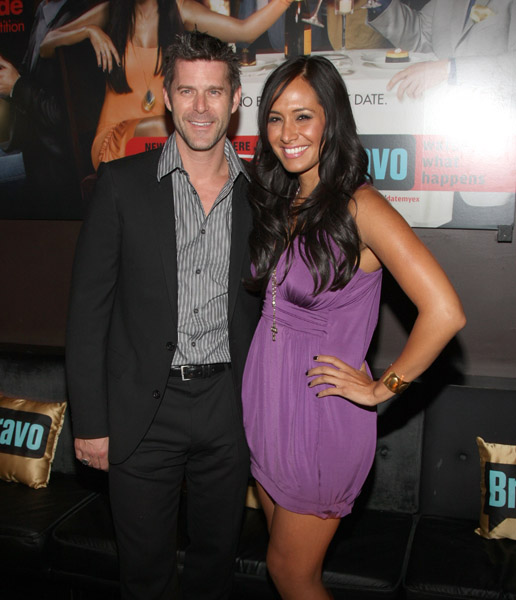 Jo and Slade are the best of friends and NOW Slade wants to help Jo find someone to share "the amazing things that are happening" in Jo's life. Why…? Slade says Jo works hard and he wants the best for her; although he admits he is a little jealous. On this very first episode, Jo goes on a date with four different bachelors (who all reside in one room of Slade's House) and then she chose only one bachelor to remain in the house. Interestingly, Slade views these dates via a surveillance system on a laptop. He says he could be the greatest ally or the worst enemy because no one knows Jo better than him. He warns that Jo is family and nobody messes with family!
First Date is with Martin
Martin describes his personality as charismatic and he believes Jo needs a challenge. He says he works but he doesn't beg and if someone finds him interesting, they find him interesting. He takes Jo to a private dinner and dancing rendezvous at a restaurant called Mama Juana's. Jo says this was the most romantic date she's been on in a while.
Turn off: Talked too much.
Slade's Opinion: A know it all.
Jo: Sorry but we should just be friends. Martin is eliminated.
Second Date is with Micheal
Micheal says he's not hoping to fall in love. He was just looking forward to meeting Jo and he is far from fake. Jo thought Micheal was cute, had a nice body, and a nice smile. And since Micheal is "far from fake", he takes Jo fishing which he believed was a reflection of who he really is. 
Turn Off: Micheal gave Jo a lesson in gutting fish.
Slade's Opinion: Joe only fishes on the menu.
Jo: Sorry but we should just be friends (Micheal was one of the bottom two). Micheal is eliminated.
Third Date is with David
David describes himself as a perfectionist. He says he has fallen in love twice in his life and he would love to fall in love again. David takes Jo on a helicopter ride tour over Santa Monica, Beverly Hills, and the Palisades. He believes the extravagance reflected a lot on his personality because "if you have the means to take a helicopter ride then you do."
Turn Off: David is a talent manager and it's not clear if he wants to date or manage Jo. He may be too "Hollywood."
Slade's Opinion: He believes David is all about business and he really doesn't think David is the guy for Jo.
Jo:Does not eliminate David
 Fourth Date is with Nelson
Nelson describes himself as a glass is half full kind of person. Nelson takes Jo rock climbing. Jo says she had so much fun and Nelson was the kind of guy she would take home to her mother.
Turn Off: Friend or romantic vibe conflict.
Jo: Sorry but we should just be friends. Nelson is eliminated.