Posted at "First Class Fashionista" *Also Find Us On TV.com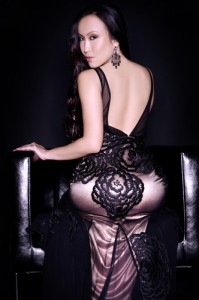 On Tuesday, December 7, 2010, talented singer-songwriter Baiyu released her debut album, "B-Side", with JMD/INgrooves/Universal. According to a released statement, "B-Side is a unique fusion of 90's inspired R&B and pop with singer/songwriter underpinnings"; meaning Baiyu has been inspired by artists like Mariah Carey and Whitney Houston, but every song was written by Baiyu and is a reflection of her own life. In the release, Baiyu explains that "B-Side" is a synthesis of her musical foundation and her personal experiences.
"This project has it roots in not only my musical core, but in my personal experiences. Each song can be tied to such specific moments in my life that I almost feel a kind of nakedness in sharing them with others," says Baiyu.
Now it's time to listen to the introductory track of "B-Side", also entitled "B-Side"!
We first shared Baiyu's teaser track, "Take a Number", back in November saying, "We think the song is hot! Take A Number will definitely be a hit song for the Chinese-American artist with the soulful voice on her road to stardom!".
And don't forget to listen to "Take a Number" again! We still think the song is hot, and go get the album!

It's all according the the buzz…Here is where you can tell thousands of people what you think. Share a comment with thousands of visitors at FirstClassFashionista.com. Is this First Class Fashionista Hot or Not? *First Class Fashionista is Copyright Protected. First Class Fashionista permits a direct homepage link and credit.

First Class Fashionista would like to invite you to shop:
Discount Designer Clothes
Discount Designer Shoes
Discount Designer Handbags
*BOOKMARK THIS SITE for Updates* Baiyu B-Side