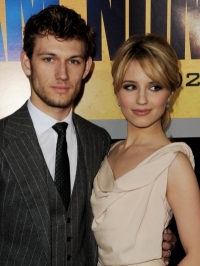 Alex Pettyfer may not be having the greatest of times at this moment in his life. First, Alex Pettyfer split with girlfriend Dianna Argon soon after the release of I am Number Four– And, oh, the rumors swirling about Alex being "very controlling, taking Dianna's phone to read her messages and always seeming paranoid she would cheat". So, now, have you heard about Alex Pettyfer's house fire? 
Allegedly, Alex Pettyfer arrived very late to the premiere of Beastly costarring Vanessa Hudgens held at the L.A Grove Shopping Mall- I love this movie, saw it last weekend! Well, why was he so late? A source reportedly told E! Online that Alex explained he had a house fire- And something about it starting in Alex's garage. Luckily, L.A. firefighters were able to put out the fire as quickly as they could and there was no one else at home, so no one was injured.
But to wrap it all up, everyone seems to be talking about the irony- This so happens to be the very same house that Dianna Argon and Alex Pettyfer lived in together while they were dating. Alex is said to have moved out after the split.