As a Vogue Influencer, First Class Fashionista has been given the amazing opportunity to share many new and exciting products of interest to you, our valued readers. A few weeks ago, Vogue let me know I had been hand selected to receive a free gift from Brahmin, but I didn't know what it was. I thought, at the very least, it could be a Suri Wallet.

The Suri Wallet comes in assorted colors and will compliment any Brahmin handbag.
Or, I got a first look at the Brahmin Summer 2011 collection and I was hoping the mystery Brahmin gift was one of my favorite bags below.
Natural Anaconda Sariah bag.

Bronzo Rio Anaconda Dangy bag.
But, last Thursday, the wait was over and I received my surprise gift from Brahmin. The Brahmin Anytime Tote!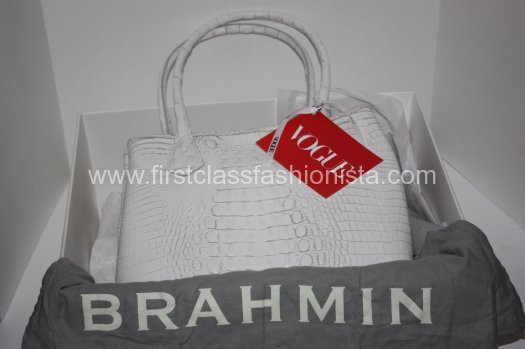 It wasn't a Suri Wallet nor was it the Natural Anaconda Sariah or the Bronzo Rio Anaconda Dangy bag, now on my wish list. It was something a bit more special, the Brahmin Anytime Tote. The Anytime Tote is special because Brahmin, known for its timeless sophisticated styles, chose to launch this bag exclusively with the Vogue Influencer. The Brahmin Anytime Tote will become available to Brahmin shoppers on April 15th only at Brahmin.com and in select Brahmin Boutiques, but will not hit store shelves across the country until May. Now I really feel like First Class Fashionista and our readers are truly Vogue Insiders! Our Fashionistas will know it first, try it first and then share it with you!
The Brahmin Anytime Tote is perfect for work or play. The Anytime Tote comes in an assortment of colors including oyster, clay, canary, light pink and pistachio- And I got the perfect color for me, oyster. My new white Brahmin bag goes with anything. Last Saturday, I wore a Pucci blouse and white jeans to flaunt my new bag at the Denver Style Expo– where I interviewed Project Runway's Mondo Guerra on his Fall 2011 collection. Can you believe it…? Straight from LA Fashion Week, Mondo thought his hometown should see the collection too!
My job as a blogger doubling as press is both work and play, so my Brahmin Anytime Tote worked for me. It is sophisticated but yet so functional. I had my Flip in one pocket, cell phone in the other and pens in the convenient pen holders. And I even had room for a notebook to jot down notes about the runway collections!
I love this bag! I think I pulled of the fun and flirty, but hard at work look at last weekend's Denver Style Expo! This bag is my new on-the-go assistant and I will enjoy her for many years to come.
Below, check out our interview with Mondo Guerra and the Mondo Guerra Fall 2011 collection featured on the Denver Style Expo runway. I was rockin' my Brahmin Anytime Tote, which held my Flip, which recorded this interview!
Originally Posted at "First Class Fashionista" *Also Find Us On TV.com
It's all according to the buzz..

Product Review and Giveaway Disclosure: As a Vogue Influencer, I received one or more of the products mentioned above for free. These are my thoughts. I only recommend products or services I use or have used personally and believe will be good for my readers. I am disclosing this in accordance with the Federal Trade Commissions 16 CFR, Part 255 Guides Concerning the Use of Endorsements and Testimonials in Advertising.