We're so excited! One of our bloggers have decided to share her very own Spring fitness tips to help you get ready for the summer!
Practical Fitness Tip and Challenge: Stop Drinking Soda to Lose Weight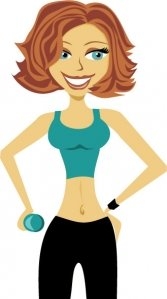 First Class Fashionista Fitness Tip #1: Cutting Out the Soda
Okay Fashionistas, our first fitness tip is a simple lifestyle change that can help you easily shed those pounds and save you tons of money as well—Cut out the soft drinks! This is a not another one of those "fad" diets. It is a simple but difficult task, especially for those soda lovers out there, but a great tip for the Fashionista who wants to look good.
According to online documents, Americans have begun drinking more and more soda and eating more fast food in the past ten years! Vending machines filled with our "liquid candy" are flooding office buildings, schools, grocery stores, amusement parks, pools and even our parks! Americans spend about $66 billion on carbonated soft drinks, more than any other country in the world! Studies have shown that the average American spends about $350 dollars on soda a year!
Not only is soda devoid of nutrition, costly, extremely high in calories and filled with simple sugars, but is also extremely bad for our teeth and waistline. The simple sugar and acid combination in these bottles of soda eats away at our enamel allowing for tooth decay and those lovely cavities. Studies have shown that soda may be major contributor to the obesity many Americans are facing.
Save your teeth, your waistline, and pocket books and take this soda free challenge with First Class Fashionista! Feel free to share your experiences or concerns.
Related Story: Spring Fitness Tip: I Am I Can, I Do: Body Breakthrough DVD
Disclaimer: Consult your doctor before changing your exercise routine or diet. We do not claim to be fitness experts. Try at your own risk. Results may vary.
Posted at "First Class Fashionista" *Also Find Us On TV.com
It's all according the the buzz…