Surfacing reports are suggesting the news about Arnold Schwarzenegger fathering Housekeeper Mildred Patty Baena's child may have been leaked to the media by Maria Shriver's own people! According to these reports, originating from TMZ's "Maria Shriver's People Leaked Arnold Baby Story", Maria Shriver was very "hysterical" when she found out and was tempted to hold a press conference immediately, but her camp was able to calm her down and formulated a plan to tip off the LA Times one week after Maria Shriver and Arnold Schwarzenegger announced their split.
To add fuel to the fire, stories of the possibility of more illegitimate children by the "Governator" were worsened by Jane Seymour who over the weekend said, on CNN, "I heard about two more (children) somebody else knows about. I even met someone who knows him well."
According to sources, Maria Shriver told her friends she will be filing for a divorce from 63-Year-old Arnold Schwarzenegger and has retained Laura Wasser, a high profile divorce attorney to represent her petition. When this divorce goes down, it could cost the True Lies "Governator" up to 200 Million dollars.
Maria Shriver and Arnold Schwarzenegger have been married for 25 Years and the couple has four children, Katherine, 21, Christina, 19, Patrick, 17, and Christopher, 13. Mildred Patty Baena is said to have worked for the family for 20 year and she and Arnold Schwarzenegger's son is 13 years old. The secret was kept from Maria Shriver for over 10 years.
Arnold has apologized. "After leaving the Governor's office, I told my wife about this event which occurred over a decade ago. I understand and deserve the feelings of anger and disappointment among my friends and family," says Arnold Schwarzenegger in a released statement.
Like Tiger Woods, we are wondering how many women did Arnold Schwarzenegger cheat with? One of our most popular stories to date is How Many Women Did Tiger Woods Cheat With?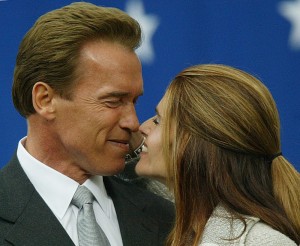 Update 5/25: Maria Shriver was not the one who leaked the news to L.A. Times. A statement has been released saying, "This is a completely fabricated story. Maria did not hire a private detective and she is not the one who leaked the news to the L.A. Times."
Note: Whether or not there is any truth in this supposedly completely fabricated story, TMZ reported that Maria Shriver's people leaked the news to L.A. Times not Maria Shriver herself. Additional side note: We think awareness is a responsibility.
*Bookmark us for updates
Originally posted at First Class Fashionista