FirstClassFashionista would like to invite you to shop: DesignerClothes@FirstClassFashionista
DesignerShoes@FirstClassFashionista
DesignerHandbags@FirstClassFashionista
*BOOKMARK THIS SITE* Official Celebrity Fashion and Gossip Website
Keifer Sutherland spotted at the "Late Show with David Letterman" at the Ed Sullivan Theater in New York City on August 7, 2008.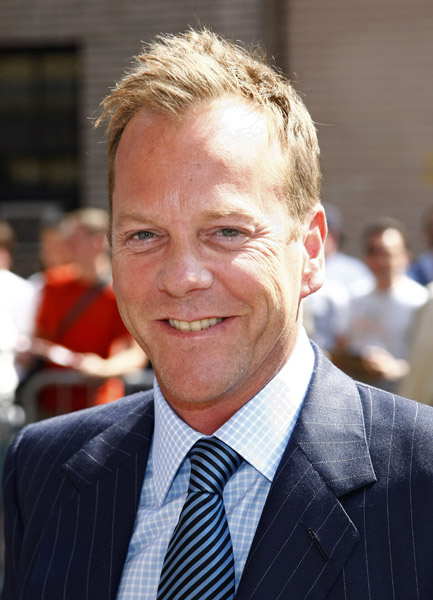 The Mirrors are the Windows to Our World
Overall, I liked this movie. I had to tolerate the gore, the lack of a running dialogue, fighting with a demon, and a semi-poor ending to the movie; but Keifer Sutherland's performance was outstanding. I'd say, that he was believable. In addition, Paula Patton was a great supporting actor! The suspense kept me interested. I was never bored. Surprisingly, there may be a part 2. It is rated R for Horror, disturbing images, and brief nudity.
Disturbing Images:
1. A man cuts his throat with a piece of mirror.
2. The mother begins to cut her daughter's throat with a pair of scissors.
3. The sisters jaw is literally ripped off by the demon in the mirror.
Brief Nudity
1. The sister's nude profile is seen as she gets into the tub.
2. A demonic ghost's burnt breast is exposed.
Tell our visitors what you think. Share a comment.