Infiniti G25 Review
Hello "First Class Fashionista" readers, I'm back again with another car review. I'm in Phoenix today, and this time I rented the all new Infiniti G25 Sedan. I used to be a huge fan of Japanese automobiles, so I was pretty excited when I saw it on the rental lot. From the outside of the Infiniti G25, it was the right height and low profile, giving it a subtle aggressive look. The design of the G25 has an uncommon smooth but curvy styling unlike other late models, seeming to intentionally create the illusion of hard lines vs the more smooth and curvy design. The paint was Black Obsidian, a very, very deep black. I wondered, How do they do that with black?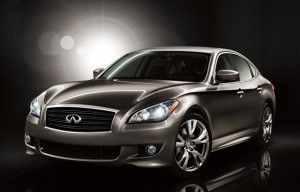 The interior of the 2011 Infiniti G25 was drowning in hand stitched Black Graphite Leather and Shodo Aluminum trim. The console was very appealing to the senses, though the knobs and buttons were a little difficult to undersrand and took some time to figure out. But, a couple of minutes after getting acclimated to the cockpit, I had my radio station set, and air conditioning on. After a few more second of analysis, I figured out how to adjust the 7 way driver's seat and lumbar support. Now I was ready to hit the road.
Heading down the AZ-202 loop in the 2011 Infiniti G25 Sedan, the car's suspension felt very tight and its low profile enables it to handle very well– even at very high speeds. The 2011 Infiniti G25 Sedan has a very tight sports car feel! And, I think its 218 hp DOHC engine provides a decent amount power to move you though traffic.
All in all, I like this car a lot! Checked it out online and the model I drove today costs about $32,000 fully loaded.
Disclosure: This is an honest review. These are my thoughts. I only recommend products or services I use or have used personally and believe will be good for my readers. I am disclosing this in accordance with the Federal Trade Commissions 16 CFR, Part 255 Guides Concerning the Use of Endorsements and Testimonials in Advertising.
Related Post: Hyundai Sonata Review and Nissan Maxima Review.
Originally Posted at "First Class Fashionista" *Also Find Us On TV.com
It's all according the the buzz…