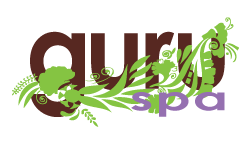 Yesterday, I went to the new Guru Waxing and Nail Spa here in Boulder, as I had bought a groupon for a mani/pedi there. I arrived early for my 10:00 am appointment, still a little hungover from the last night's activities. I was welcomed by a genuinely friendly receptionist, and my manicurist happened to be Kalpana, a woman who used to do my waxing at Ten20 spa.
The atmosphere is relaxing, black leather armchairs, tasteful decoration, a flatscreen TV that was off as it was 10;00 am, and no nasty smell of acetone. I was offered chai or green tea to sip on while I got pampered, and went for the green tea in hopes that it would help settle my stomach. It actually kind of did.
The color selection was relatively small, but they did just open, and the colors they did have were pretty. I selected a coral for my toenails and a metallic gold-purple for my fingernails. I talked the whole time with Kalpana—it's always more fun with a friendly manicurist—and really enjoyed the treatment.
The pedicure included a hot soak, refreshing calf massage, and thorough callus-remover. When she was removing my cuticles and the dead skin to avoid in-growns, she did cut a little too much in one small spot and it bled tiny bit—but it didn't hurt bad and wasn't an issue.
Both the manicure and pedicure were quick and efficient but not rushed, and I was more than pleased with the outcome. I was out of there in and hour and fifteen minutes and my polish was smooth, even, and not sloppy in the least. I will go there again for nail services, and would recommend it to anyone. I also plan to get waxed (it is bikini season!) and try a facial. They don't do acrylics or gel nails, but overall, it's a great new place!