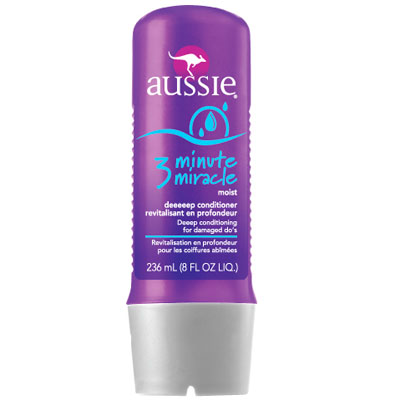 Hello there Fashionista! If you're anything like me, your hair is dry and brittle from being overly processed by chemicals and day-to-day heat styling. After consulting my hairdresser about dying my hair blonde, she made it very clear that I need to use a deep conditioner to help repair my hair first.
Reluctant to spend $40 for a deep conditioning treatment, I hit the dreaded drug store isle to attempt to find something that might have a chance of working. While looking at Aussie products simply because I love the smell, I was nearly attacked by a woman who convinced me to buy Aussie's Three Minute Miracle. She seemed thoroughly enthusiastic so I figured; why not give it a shot? It's less than $4.
Before getting in the shower, I read the directions on the bottle-work into my hair and leave there for about three minutes- and thought "easy enough"! My first impression was the luxurious smell and silky feel of the product. Once it was in my hair for three minutes, my scalp felt moisturized and my hair was smooth and soft. After drying and styling, my hair felt like I just had a moisturizing treatment from my salon. Not only was my hair soft, but cuticle was smooth and my hair had a shine I haven't had since before my first dye.
The fact that this product cost a little more than three dollars amazes me. My hair is in a condition it hasn't been in for years! This is a product I highly recommend to anyone who has damaged and brittle hair.
Originally Posted at "First Class Fashionista" *Also Find Us On TV.com
It's all according the the buzz…