FirstClassFashionista would like to invite you to shop: DesignerClothes@FirstClassFashionista
DesignerShoes@FirstClassFashionista
DesignerHandbags@FirstClassFashionista
*BOOKMARK THIS SITE* Official Celebrity Fashion and Gossip Website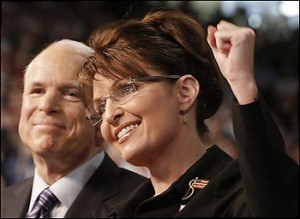 John McCain chooses Alaska Governor Sarah Palin…? Why?
Apparently, John McCain chose Sarah Palin in an attempt to gain the lost Hillary Clinton vote. However, the McCain camp strategy seems to have backfired. First, women are insulted… Women who supported Hillary did so not just because she was a woman but because of who Hillary Clinton is and what she stands for. How is it that McCain believed that Hillary Clinton supporters would vote for just any woman…? Politics are dirty but just how dirty are they? Second, it has been reported that Sarah Palin has attempted to use her "muscle" to get her brother in-law fired. And now, it has been revealed that her seventeen year old daughter is pregnant. Here is where you can tell us what you think. Your opinion matters. Share a comment with thousands of visitors.