FirstClassFashionista would like to invite you to shop: DesignerClothes@FirstClassFashionista
DesignerShoes@FirstClassFashionista
DesignerHandbags@FirstClassFashionista
*BOOKMARK THIS SITE* Official Celebrity Fashion and Gossip Website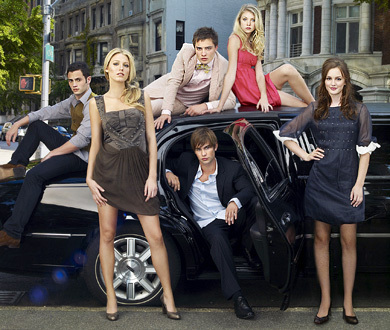 It's the end of summer…"Tans fade, highlights grow dark and we all get tired of sand in our shoes." It's the beginning of a new "Gossip Girl" season!
Jenny Designs a dress for the very exclusive white party but her boss snobbishly reminds Jenny that she is a nobody when it comes to fashion design. As suggested by her father, Jenny gives Eric a call. Jenny wears her very own dress and works the white party! Needless to say, she impressed her boss.
Blair Uses a young man to get Chuck jealous. The mysterious young man turns out to be Lord Marcus. Needless to say, now Blair is impressed. However, she still loves Chuck. Chuck is given the chance to tell Blair that he loves her but he chokes.
Serena Accompanies Nate to the white party because Nate is involved with a married older woman. At the white party Serena kisses Nate to help make HER jealous. Meanwhile, Serena's grandmother has a change of heart and invites Dan to the white party so that he could get back together with Serena. He appears during the kiss. Serena begins to explain… At first, Dan doesn't want to hear explanation. However, Dan gets confronted by two girls that he has been dating simultaneously. It's a wash! Dan and Serena are back together again. How cute! They missed each other!
Tell our visitors what you think. What are your expectations for "Gossip Girl" season 2? Who are your favorite characters and why? Share a comment with thousands of fans. Don't forget to bookmark this site for interesting updates!