Tiffany & Co. Introduces Paloma Picasso Venezia and Tiffany Era Collections for Fall
First Class Fashionista is proud to help announce the new Tiffany & Co. collections for Fall. Tiffany & Co. recently introduced the Tiffany Era and Paloma Picasso Venezia Collections. Sourced through the 1970s ring designed by Jeweler Donald Clafin, the Tiffany Era collection embodies both the scale and playful elements the designer was known for.
Bold statement pieces in the form of bangles and dimensional pendents are crafted in 18 karat gold and sterling silver. The bangle's four-sided square designs are polished to perfection to reveal Clafin's cut out L-O-V-E design.
This specific assortment of jewelry is designed to show the graphic lettering of the 1966-1977 time when Donald Clafin designed his rings. The Tiffany & Co. Era collection is crafted with the highest attention to quality and detail, and made to compliment falls luxurious layering trends.
The Paloma Picasso Venezia Collection was created by the renowned designer through inspiration of beauty within the fabled city. The collection combines the inspiration of two of the worlds most fascinating and beautiful cities. Master Designer Paloma Picasso uses art and culture from her worldly travels, including exotic place. Paloma Picasso has without question worked to mold this collection into something quite whimsical.
Fascinated by the canals, bridges, palazzos and public squares of Venice, the designer envisioned the collection to be an interpretation of the cities ancient architecture. The selection of jewelry is separated into four distinct themes which highlight each one of her inspirations.
Goldoni captures the essence of the ornate iron gates and magnificent windows that act as the eyes of the city allowing for a view into the courtyards of Venice's grand palazzos. Intricate scrollwork motifs seize the decorative ironwork that form within the Guggenheim Museum. Necklaces and drop earrings are done in 18 karat gold and sterling silver and shimmer with diamonds and rich gemstones.
Luce if focused on the ornamented lanterns which are draped from the vaulted ceilings  of several Venetian landmarks. Spiral patterns evoke the fluidity of the ornate lanterns, and are embellished with diamonds. Cuffs, dome ring and earrings complete the theme.
Stella is a theme that combines the 8-pronged star motif found in Venetian architecture. This specific part of the collection is crafted into pieces which include gold star designs on brilliant blue enamel bangles and earrings and is available in several precious metals.
There is a taste for color within the Paloma Picasso collection which is highlighted through her interpretation of the city's gondola mooring poles. The poles are replicated in 18 karat gold and sterling silver and accented with shades of vibrant red, blue, green and orange. This entire collection is filled with amazing pieces made to be worn alone or combined for a truly bold look. Both collections are available at select Tiffany & Co. stores nationwide.
Visit Tiffany & Co. for more information.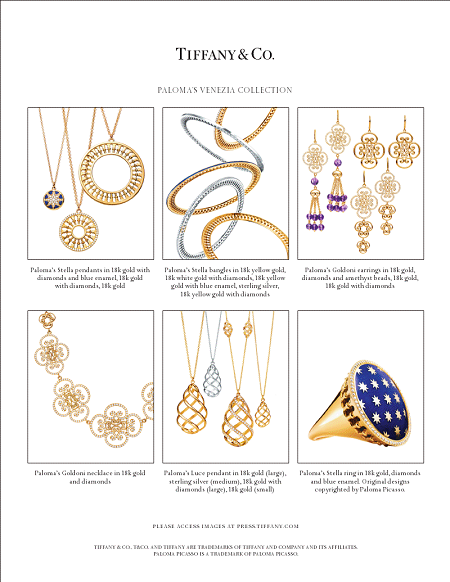 Originally posted at "First Class Fashionista"