FirstClassFashionista would like to invite you to shop: DesignerClothes@FirstClassFashionista
DesignerShoes@FirstClassFashionista
DesignerHandbags@FirstClassFashionista
*BOOKMARK THIS SITE* Official Celebrity Fashion and Gossip Website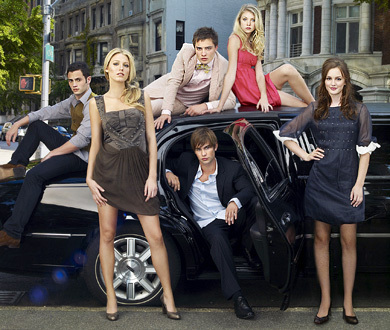 "Never Been Marcused" Highlights
Serena: I Need Time
Serena and Dan wake from a night of passion on the beach. The night spent on the beach was amazing but Serena says that she wants time to think about getting back together again because they did break up for several reasons. Dan says he thought that the rendezvous on the beach meant that they were getting back together again; but he agrees to give Serena time to think. However, Dan and Serena end up on the same bus ride back from The Hamptons. As agreed, Dan and Serena try to give each other space. They sit apart. Sexual attraction is apparent. They miss each other…And they're riding the same bus!
Later, Serena passes Dan her magazine that she has finished reading. Dan watches her hands. Dan can't keep his eyes off of Serena! Serena teases Dan as he watches her eat chocolate covered strawberries very sensually. They end up in the bus toilet making out…! Skank but Hot…Well, sort of! Back in New York…Of course the agreement doesn't stick! Serena invites Dan to a party that Blair has fabricated to impress Lord Marcus. The animalistic attraction between the two is more than apparent. Passionately, Dan and Serena agree not to think-at least for now.
Blair: Oh My F*ing God
Blair tells Serena about Lord Marcus. Blair explains that Marcus is not a college student or a commoner but that in fact he's a Lord. Lord Marcus mentions that he plans to visit his step-mother. Blair wants to accompany Lord Marcus to meet his step mother who is the Dutchess. Blair invites herself. Lord Marcus explains that he wants to go unaccompanied. Quickly Blair thinks on her feet and fabricates a big annual "return to the city" party that must not be missed…How manipulative! Lord Marcus agrees to attend. Blair then sends a text to her party planner. At the party, the guest appear to be "formally" bored and Lord Marcus is unimpressed. Later, Chuck shows up at the party uninvited. He is a plus one. Blair confronts Chuck and rudely insults his guest…Something about the effects of to much botox! Ironically, Chuck's guest is the Duchess-Lord Marcus' mother in-law. The Duchess reveals her identity and Blair begins to gravel. The Duchess informs Blair that she is a lowly commoner and that she will never end up with Lord Marcus. Later, however, Blair walks in on Nate and the Duchess making out in the library. "Oh my F*ing God…I think you'll find it in your heart to take pity on me," says Blair. On the phone with Serena: "You were right B. All I had to do is be myself," affirms Blair.
Chuck: My New BFF
We find out that Chuck sells his club to help Nate's family. Nate is infuriated when he finds out the truth… "I would never have let you. That's why you didn't tell me," says Nate. Meanwhile…Chuck is planning a Lord Marcus take down! Chuck invites Lord Marcus to a game of squash. "It's the beginning of a beautiful bromance." Chuck makes Lord Marcus his new BFF as he adds Marcus' home phone number to his cell's address book.
Jenny
Jenny is happy that her dad is back home. His "Great American Road Trip" is discussed over dinner.
Here is where you can tell fans what you think. Share a comment with thousands of visitors. *Copyright Protected. First Class Fashionista permits a direct link and photo credit.
Bookmark for Gossip Girl, Blake and Penn, UPDATES, Recaps and PICS