Slender Secret Jeans Review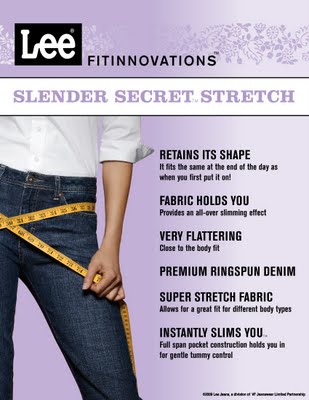 As a writer for First Class Fashionista I was given a wonderful opportunity to receive and review a pair of Lee brand jeans. I chose to go with their new line of denim appropriately called "Slender Secret". This particular line erases your flaws and allows you to flaunt your style with an ultra stretch premium denim that retains it shape all day!
I was more than pleasantly surprised by both the skinny jean fit and style. What first caught my eye was the rhinestone buttons. Each rivet and button is covered with a hint of sparkle, and what fashionista doesn't love a little sparkle? The jeans boast a moderate waist line that conceals and contours to give you that womanly silhouette, without looking too tight or constricting.
The comfort level of Lee's "Slender Secret" jean was spot on, I wore them the entire day and from the moment I put them on until the end of the day they kept their shape without getting baggy or loose like many other jeans tend to do.
I am 5'7 and more than often I am confronted with the fact that I either have to have my jeans hemmed or the length is too short. The lee jeans hit me right by my heel without dragging beneath my shoes, which is a huge bonus when you wear flats most days!
The wash of the denim is the perfect color to have in your wardrobe. It's great to have a slimmer fitting pair of jean that can go from day to night. The color "onyx" made for a very universal pair of jeans.
There's no mistake, the Slender Secret skinny jeans are premium denim at half the cost of big name designers, with a fit that flatters you to look as good as you feel!
Below, check out Lee's "Slender Secret Skinny Jeans: Behind the Seam" video.
Disclosure: For the purposes of this review and sharing the news with First Class Fashionista's readers, I received one or more of the products mentioned above free. Regardless, we only recommend products or services we believe will be good for our readers. I am disclosing this in accordance with the Federal Trade Commissions 16 CFR, Part 255 Guides Concerning the Use of Endorsements and Testimonials in Advertising.
Originally posted at "First Class Fashionista"