Dumbbell Shoulder Press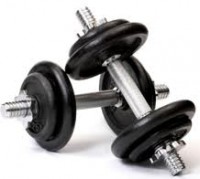 I know the title is almost self-explanatory, but the motion of how this is performed is even easier.
Directions:
Pick a bench that has a back or an incline bench that allows you to raise it so that you're able to sit up straight.
Pick a weight that is comfortable for you.
Make a 90 degree angle in your elbows with the dumbbells in your hand and raise your arms in the shape of a U with palms facing away from you.
Press the dumbbells up above your head into an I. Make sure that your arms are aligned with your ears.
Return to the start position, which is the U.
My alternate name for this exercise is called the U and I.
The Dumbbell Shoulder Press targets your shoulders, but more so the Anterior Deltoid. I know you want the shapely shoulders that look good in shirts and tank tops. Well this move will target your deltoid really well. Below is a video of me performing the Dumbbell Shoulder Press.
Did you find this tip helpful? Like or favorite my video!