The Black Widow Martini with Hpnotiq Harmonie Recipe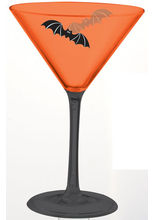 Are you planning a Halloween party or get together? To celebrate the spirit of Halloween, Hpnotiq Harmonie created a signature drink to compliment the festivities. Introducing, the very stylish but creepy Black Widow Martini. Enjoy.
The Black Widow Martini
2oz oz Hpnotiq Harmonie Liqueur
1.5 oz Black Cherry Vodka
Splash Cranberry Juice
Garnish with a glitter Spider ring. Add black licorice laces lining side of glass to create a spider web effect or use chocolate sauce to create a web in the glass, put glass in cooler to set, pour drink.
HPNOTIQ Harmonie is a blend of Premium French Vodka, infused natural fruits, flowers and Cognac. Back in July, Hypnotic celebrated the launch of Hypnotic Harmonie at a party in NYC hosted by Khloe Kardashian.
Disclaimer: At First Class Fashionista, we do not condone underage drinking!