The newly single K sister, Kim Kardashian, got a break from all the craziness as she headed to Australia for business. The reality star was joined by sister Khloe and her husband Lamar Odom. Amidst a swarm of questions regarding her divorce from Kris Humphries, Kim K. kept her cool.
"I mean, you know, in a tough situation I think I'm trying to do the best I can, and it's actually a bit of an escape to be able to come here," Kim told the Kyle and Jackie O Radio show.
Kris Jenner, mom and manager of Kim Kardashian, jumped to her daughters defense during divorce proceedings. On Good Morning America, Kris Jenner shot down allegations of the possible "made for TV" marriage. Kim's mom-ager stated, "This certainly wasn't a sham, this wasn't something for TV we already have enough going on…on our show that we don't have to make things up."
Jenner continued to state that she and fellow family members were unaware of any possible problems that the couple could have been enduring. Adding to her daughters defense, Kris Jenner explained that Kim and Kris did NOT make the reported $20 million dollar wedding profit. In fact, once the wedding was all said and done, Jenner says Kim Kardashian actually owed money, which she was happy to pay for at the time.
Meanwhile, in response to the break-up, the continued backlash of disgruntled Kim K. fans who are being called "haters" continues to grow. Some even went as far as to hold a vigil outside of the Kardashian sister's NYC store. Many have been tweeting on the trending topic #thingslongerthan Kim's marriage.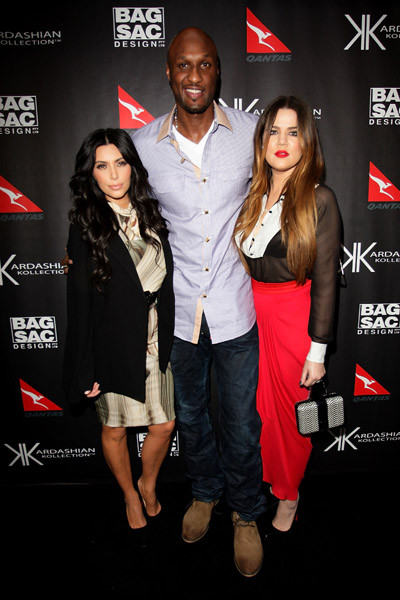 Kim Kardashian with Lamar Odom and sister Khloe at launch of the Australian Kardashian Kollection for Sears.