Donatella Versace debuts H&M collaboration in true fashionista style!
Last Tuesday night was full of catwalk attitude, big name celebrities and of course killer fashion! The event was held along the Hudson River at Pier 57 and was called "Versace for H&M on the Hudson."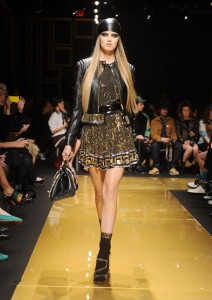 The legendary collaboration is a part of H&M's Fall designer series. The Versace collection draws from an exclusive vintage archive, while infusing the line with bold colors, prints, and materials. Both mens and women's apparel will be included in the launch, as well as select home pieces.
"I am thrilled to be collaborating with H&M and to have the opportunity of reaching their wide audience. The collection will be quintessential Versace, perfect for H&M and Versace fans everywhere," says Donatella Versace.
Prior to the big day Donatella told WWD, " I'm always looking at young people." She continued, "girls today love to dress up. They want to look cool and sexy. They don't want to look ordinary."
Young Hollywood must share the iconic designers fashion sense! The catwalk was lined with fans of the designer such as Blake Lively, Selma Blair, Emma Roberts, Jennifer Hudson and Jessica Alba.
Blake Lively
hits the black carpet wearing Versace Resort collection.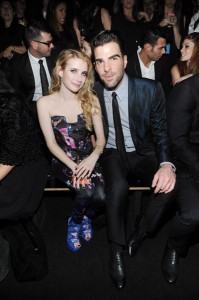 Emma Roberts wears the H&M Collection while sitting front and center with Zackary Quinto.
The show ended with a huge performance by Nicki Minaj and Prince, a perfect wrap to the already amazing debut! The Versace for H&M collection is now available online!
Fashion TV:"Fabulous Fashion that everyone can afford!"