This month's cover of EBONY magazine featured the very beautiful and pregnant Nia Long. At 41 years old, Nia Long showed off her radiating skin and huge baby bump. At the photo shoot, Long was in her third trimester and just about ready to burst!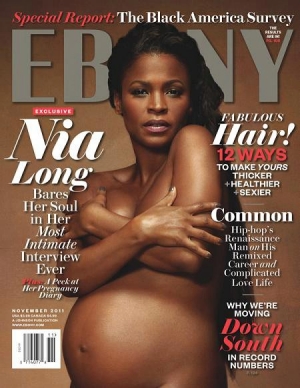 Nia Long is getting older but definitely doesn't look it! Long expressed disappointment with EBONY magazine about her aging body, explaining that she may not be able to have any more children.
"I remember I was driving home from the doctor and I called Ime, and I was like, 'Babe, I'm really kind of sad right now…the doctor actually said if I wanted to have more children, it would be hard," she said.
And on Monday, November 7, 2011, Nia Long gave birth to her son, Kez Sunday Udoka. Kez is Nia Long's second son and the first for she and boyfriend Ime Udoka.
Kez is two weeks old today, and both mother and baby are doing well. Congratulations Ime and Nia!