On Saturday I attended the "DeVelo Magazine Winter Edition Release Party" as the official blogger for the event. The celebration kicked-off at 8pm with a champagne pre-party at Suite 200. DeVelo Magazine staff, talent and special guests arrived to a red carpet reception with paparazzi. Guests included some of Denver's highly-respected industry professionals, such as the director and chairman of FGI Denver, Project Runway's Fallene Wells, Designer Gino Velardi, just to name a few. Hundreds of people came out to celebrate the mag's success.
With eye-popping photography, interesting fashion and entertainment must-reads, to DeVelo's credit, the magazine commanded the center of attention. During the party, more than a few DeVelo fans were actually reading the mag; while others thumbed through, stopping to look at pictures. And, there is a lot to read and look at in this issue!
The winter edition of DeVelo Magazine is comprised of over 70 pages of pictures, articles and advertisements. Reminiscent of the W publication, the magazine is ascetically pleasing in both picture and prose. It also includes a two page spread covering the first-ever Colorado Fashion Week, written by yours truly!
My article!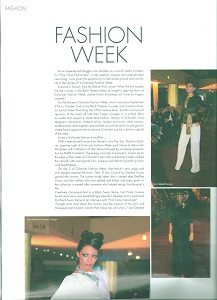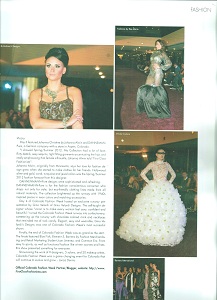 It was an exciting night that featured a great performance by Blackout Beats and ended with Lisa Wear Clothing's 70s fashion show at Sutra. The fashion show was definitely a highlight of the event. Designer Lisa Helm's 70s collection was a fresh take on today's retro-look. Enjoy.