My Black Friday Shopping Experience!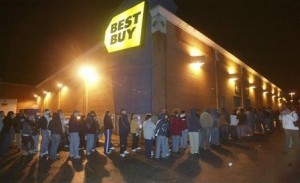 For as long as I can remember my family has shopped on Black Friday, the day after Thanksgiving. To our surprise, Black Friday madness for many stores meant midnight openings. For those of us who shop on Black Friday every year, we know that this was about 5 hours earlier than usual. In my family, being the early birds that we are, the midnight openings were difficult for us. My parents and sisters opted out of being the first ones at the door buster sales this year. "It just wasn't worth it", they thought.
My boyfriend and I, however, went out to the Best Buy sale in hopes of getting the 42" Sharp LCD HDTV for only$199. After we ate our Thanksgiving meal and spent time with our family, at about 7 o'clock, we headed out to the closest Best Buy. We thought that being 5 hours early we would be able to get one of the best deals Best Buy had to offer. But, oh no! We couldn't be more wrong! There were more than 200 people lined up around the corner already! There were people in line since the day before Thanksgiving, on Wednesday. So we decide to drive to all  the nearest Best Buys we could think of in Colorado and at everyone we saw the same thing.
This was my boyfriend's first Black Friday shopping experience! I didn't want him to miss out. So the last Best Buy we drove to at about 11pm, 1 hour before opening, we decided to stay. When the doors opened, it was complete madness! People were pushing, shoving, yelling and cursing! It was so much chaos, we even expected a fight to break out.
There were only 10 42" Sharp TVs, but there were many more sales. We ended up buying a 46" LCD HDTV for about $450 dollars. I can remember a time when my family paid just over $1000 for a 42" Plasma TV and thought it was a great deal. By the time we got into to the store, the computer shelves were completely empty and most of the TVs were gone.
To me, Black Friday is mostly about the experience and the rush of people all lining up for the stores to open. There are some great deals out there, but is it really worth it to sit outside a store for 2 days to save a couple hundred dollars? Is it worth it to miss Thanksgiving with your family?
For me, I don't think so. Feel Free to share your Black Friday experience with "First Class Fashionista". What time did you go shopping? Get any amazing deals?